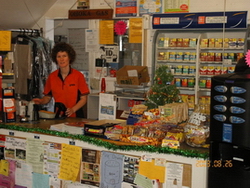 Are you looking for honesty, reliability and excellent service from a long standing local business? Look no further than Ohoka Service Station!

Ohoka Service Station has family history in the motor industry going back well over half a century, it is no wonder Edward Hamilton followed in his father's footsteps and went into the same trade.

Edward and Justine operate the Service Station trading as Ohoka Gas, which Edward's father bought in the early 1950's.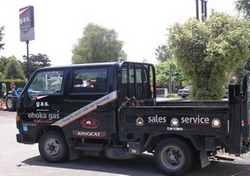 Ohoka gas manages its business with the same premise ❝keeping it local.❞ Their business employs local people and are there to service the local community first and foremost. Mind you, good reputations spread and clients come from outside the area, particularly those in rural North Canterbury.

This local emphasis encompasses school and sports activities too, since Edward and Justine and their family live in Ohoka and are heavily involved with local community events and organisations.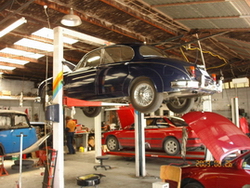 ❝Ohoka Gas has grown into a full dairy/convenience store and more.❞ says Edward. This is extremely useful for motorists in the Ohoka district, the growing area around Mandeville/Swannanoa and those on lifestyle blocks in the vicinity, who call in for their diesel and petrol supplies.

A hire centre was added some 15 years ago, offering basis items such as tractors, mowers, weed-eaters, horse float, trailers, furniture trailer, log-splitters etc. All these items are popular with owners of lifestyle blocks who can't justify owning items which they will only use spasmodically.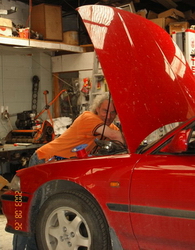 And of course Ohoka Gas is the place to have your ride on mower maintained and repaired. Brent Kugener has a reputation as an expert in small motors, and is also a qualified fitter and turner by trade. There is very little Brent does not know about mowers!

The comprehensive workshop is the back bone of the business. Herman Veenhuizen and Brad Basham have the workshop running like a well-oiled machine. A lot of work is from repeat business and a great reputation.

The workshop has a combined total of over 100 years of experience to draw on. They are kept busy working on vehicles from top the line European cars to 4x4s, Japanese diesel trucks, farm tractors and quad bikes.

❝There is no need to head off to town to a dedicated auto electrician either, because we do it all here, wiring up trailers, fixing electric windows and starter motors for instance.❞


As MTA members Ohoka Gas puts a heavy emphasis on excellent service and meeting customer needs. That includes a full forecourt service when-ever possible, such as checking oil and tyre pressures as well as pumping fuel. Why wait in a queue elsewhere?

❝People still comment on the forecourt service we offer.❞ says Edward. ❝Often people will come out of their way to get fuel here because we support the local community, and because of the service we provide.❞ ❝Our forecourt staff are all local people. They are consistently commented on, for their friendliness and helpfulness and for going that 'extra mile'.❞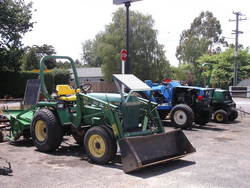 As a country garage Ohoka Gas carries a large range of parts, including spark plugs, oil filters, belts, bulbs and so on. Saturdays are particularly busy in the workshop for spare parts sales, because that is when the life-stylers are busy doing maintenance on engines and equipment, explains Edward.

Ohoka Gas is also an independent tyre dealer who can offer very sharp prices on tyres for all makes and models as well as doing wheel alignments.

Light engineering jobs such as cutting and welding steel, lathe work, farm gate repairs and traditional work on farm machinery are also undertaken.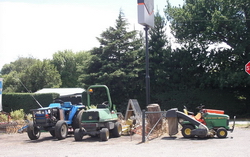 Recently Justine saw the need to move into the modern world and undertook a major re-image of the site under the Gasoline Alley brand. Obvious features include three multi dispensing pumps with 12 nozzles in total, this doubles the previous pumping capacity. New signage, a new electronic price board and a lick of paint. General tidying up of the site has also been undertaken.

Justine has also seen the need to become ❝media friendly.❞ Hence the website and the Ohoka gas facebook page.

Ohoka Service Station would not still be in business if it wasn't for the support of the local community, for this they are truly grateful.